[fusion_builder_container hundred_percent="yes" overflow="visible"][fusion_builder_row][fusion_builder_column type="1_1″ background_position="left top" background_color="" border_size="" border_color="" border_style="solid" spacing="yes" background_image="" background_repeat="no-repeat" padding="" margin_top="0px" margin_bottom="0px" class="" id="" animation_type="" animation_speed="0.3″ animation_direction="left" hide_on_mobile="no" center_content="no" min_height="none"][Editor's note: Ginny Prior has posted video of the Sampo Icebreaker experience and a podcast of kayaking in the Channel Islands on her website, http://ginnyprior.com.]
When it comes to travel, it's all about the list. The top ten this, the top five that…it's almost daunting to pour through the minutia of must-sees as mentioned in books like 1,000 places to see before you die.
So here is a "bucket list" of real adventures – hand-picked by the Happy Wanderer over years of wild living leading up my recent hip surgery. These are not for the faint of heart. They are action-packed adventures for the daring and strong-boned and able.
1. Cage diving in the Farallones. In late fall, when the great white sharks come to feed on the convention of elephant seals off the Gulf of the Farallones, you can be part of the process. The trip calls for a hearty constitution as you travel by boat some 30 miles in choppy waters to this extraordinary marine sanctuary. You're lowered in a cage, just below the surface of the water and attached to a breathing tube called a hookah line. You're not the bait – but you feel like it. At any moment, a beast the size of an SUV can lunge at your steel-trapped enclosure, thinking the piece of carpet that's tethered to its bars is a juicy morsel. When a strike does occur, it's primal. Evil eyes, massive jaws – violent thrashing. And above water the show continues as sharks shadow seals and then lunge from beneath – sending a plume of blood 15 feet in the air. Like I said – it's not for the faint of heart. But it is indeed, as the outfitter indicates with its name, an Incredible Adventure.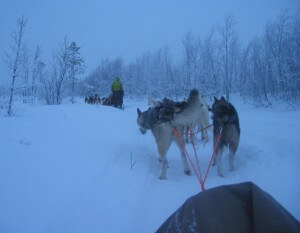 2. Dog Sledding on the Arctic Circle. This is Santa's real home, you know, in Northern Lapland. It's where the sun sits just above the horizon for five hours of mystical daylight – just enough time for a two hour mush across the frozen tundra. The dogs are part wolf – with piercing eyes and woeful sighs and energy that seems fed from the moon. They live to run and run to live and you tear through the wind at a pace that's both exhilarating and a little unnerving. I imagine it's what racing in the Iditarod is like . . . only better.
3. Bobbing among icebergs in the middle of a remote, frozen sea. Okay, I know this sounds insane. A favorite of Russian tourists, this sport is not for the thin of blood. Donning wetsuits the oil workers wear in the harsh Norwegian winters, you walk the plank into the Arctic Gulf of Bathnia (off the coast of Kemi, Finland) and become one with the water. It's an eclectic cocktail of humans from around the planet – treading water in a frozen slush cleared by the Sampo Icebreaker – a monster ship designed to keep waterways open. How many minutes can you stay in the drink? How many languages can you discern through the laughter of your vodka-infused mates?
4. Hang gliding over the Tennessee Valley. Phooey on the idea that if God wanted man to fly, he'd have made him with wings. Hang gliding is man's way of soaring like a bird, and the best spot I've found is off Lookout Mountain, Georgia. More pilots train here (Lookout Mountain Hang Gliding School) than anywhere in the U-S. Not only are the winds cooperative, but on a clear day you can see seven southern states!
5. Kayaking the Channel Islands. "The whale came so close, I could smell his stinky krill breath!" My guide shared this tidbit as we paddled close to the site where a whale almost upended his kayak. We were darting through sea caves that dot the circumference of Anacapa Island off the Southern California coast. Dramamine and a steady eye on the horizon helped me get here with an outfitter out of Oxnard, CA. We paddled intently, watching the swell of the sea so as not to get trapped in the caves in high tide. The reward for our diligence was a world few people see – where sea stars of purple and magenta feed on the encrusted walls and tiny crabs scurry along the slippery rocks. And deep in the corner, illuminated only by flashlight, was a sea lion with broody brown eyes and whiskers like a broom. This was his cave, and he made it clear with a bark that echoed off the cavern walls.
6. Heli-skiing to Glacier 3000 in Switzerland. Dawn hadn't yet broken when we lined up outside a 15th century church in the tiny village of Rougemont. The chopper landed and we loaded our skies and climbed aboard. Minutes later we were whirling straight toward an imposing white-capped mountain and a breathtaking passage that led to a James Bond-like resort called Glacier 3000. With a 365 degree view of the Alps and a shiny steel lodge rising out of the sky, it's easy to imagine you're out-skiing the bad guys and triggering avalanches and living the life of an adventurer with international intrigue.
7. Caving in Bend, Oregon. On our bellies we crawled as the encrusted opening got smaller and smaller. I fought back the waves of claustrophobia and kept my flashlight directed ahead, on the heels of the stranger in front of me. "Just a few more feet and we'll reach the mouth" said our guide, who was taking us deep underground in one of Bend's network of caves. Even the spiders avoid this place, although bats will congregate here for a moist, quiet place in which to spend winter.
[/fusion_builder_column][/fusion_builder_row][/fusion_builder_container]