By Maria Lenhart
It was a gathering that Dorothy herself would have loved. Although not there in body, Dorothy's irrepressible spirit permeated the event room at Sausalito's Spinnaker Restaurant where floor-to-ceiling windows framed glorious views of Richardson's Bay and the San Francisco skyline on a sunny afternoon on July 11.

Thoughtfully orchestrated by Inga Aksamit, Dorothy's daughter and fellow BATW member, the memorial showcased Dorothy's long and multi-faceted life. Displays of photos and clippings took observers on a journey from Dorothy's childhood in tiny Memphis, Texas, where she was a lively baton twirler who held her own in a family of boys, on up through her stint as a TWA flight attendant and marriage to Carroll Aksamit, her husband of 62 years. Carroll's career as an irrigation specialist took the couple  to live in Indonesia, Peru, Pakistan and other places far removed from the Texas Panhandle. Even after settling into a hillside aerie in Sausalito,  Dorothy retained a passion for exploring off-the-beaten-path cultures and chronicling those experiences in travel articles and photographs for publications around the globe. She never lost her down-home Texas charm, common sense and wry sense of humor either.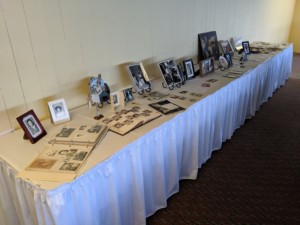 While enjoying a buffet lunch, friends and family informally shared their many memories of Dorothy, relaying her sense of adventure, acts of kindness and the sheer joy of having known her. There were many good chuckles, especially when her brother John Deaver spoke of the time Dorothy organized weekly square dances in the basement of the family home, much to the chagrin of the local Baptist minister.
BATW members Lee Daley, Maxine Shur and Maria Lenhart shared stories of traveling with Dorothy, noting how she would invariably break away from the organized itinerary to find her own more intriguing experiences. For Maria, this involved tagging along with Dorothy on a wild and wacky taxi ride over winding mountain roads in Mexico, confounding the confused driver in a search for remote places on her must-see list and finally making their way back to the hotel and the worried hosts hours after dark.
While there's no denying that the world is a much duller place without Dorothy in it, we are fortunate indeed to have shared it with her while we did.