Laurie McAndish King won awards for four of her stories in this year's Travelers' Tales' 14th annual Solas Awards. The competition was tough this year, with some 200 entries.
Here are her winning stories:
"Haggis Hunter" won a silver award in the Travel and Food category (The best story where food or drink plays a role in introducing the traveler to a foreign culture or new friends)
"Leatherback Love" won a bronze in the Animal Encounter category (The best account of meeting snakes, elephants, rhinos, gorillas, birds, or other creatures)
"What the Shaman Saw" won a bronze in Travel and Healing (The best story about visits with shamans, healers, holy men and women, or holy sites in search of a cure for illness or psychological malady)
Those three stories all appear in Your Crocodile Has Arrived: More true stories from a curious traveler.
Also, the story 

"

Eat, 
Pray, Scrub," 
which appears in 
Lost, Kidnapped, Eaten Alive: True stories from a curious traveler, 
won an honorable mention.
Meanwhile, BATW President Emeritus, Diane LeBow has won Solas Awards for two of her stories;
A silver award in the Women's Travel category for "Women in Morocco: Up against the wall but laughing together" and
a bronze award in Doing Good or the Kindness of Strangers category for "An Unexpected New Year's in Luxor".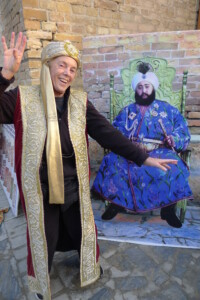 LeBow believes these are her 10th and 11th Solas Awards and wants to say thank you to Larry Habegger and Travelers' Tales Publications for supporting the writing community. Congratulations, too, to fellow Solas award winner MJ Pramik.